All files uploaded to Peach Connect are immediately run through an Auto QC process. To ensure files are not rejected please adhere to the guidelines below.
HD (1080/60i) - JBA Compliant
Video

C

ontainer

MXF (OP1a)

Codec

XDCAM HD422 (50 Mbps)

Format Profile

422P@HighLevel

Frame size

1920 x 1080

Display Aspect Ratio

16:9

Frame rate

1080/60i: 29.97 fps

Field Rate

59.94 FIELDS per second (Interlaced)

Interlacing

Upper Field First

Scan Type

Interlaced

Timecode

Drop Frame (DF mode)

Start Timecode

01:00:00:00

Bitrate

50 Mbps

Chroma Subsampling

4:2:2

GOP Length

1080/60i: 15 (M=3, N=15)
Audio

Format

PCM (Little Endian)

Channels

8 (1 channel per stream)

Audio Channel Layout

STEREO

: (L in Ch1. R in Ch2. Ch3~8 are all mute.)

MONO

: (MONO in Ch1 and Ch2. Ch3~8 are all mute.)

5.1+S

: (L in Ch1. R in Ch2. C in Ch3. LFE in Ch4. LS in Ch5. RS in Ch6. L2 in Ch7. R2 in Ch8. Here L2 and R2 are 5.1ch down mixed to 2ch.)

Sample Rate

48 kHz

Bit Depth

24 bits

Avg. Loudness:

Max: -24.0 LKFS, Min: -27.9 LKFS (-24.0 LKFS recommended)

Max. Peak:

-1 dBTP or -3 dBFS

First/Last Mute

First and last 15 frames must be silent (-60 dBFS)
File Layout
Files must be frame-accurate to exact duration.
No pre or post-roll such as clock/slate, bars, black, hold, freeze or audio tone is required.
The first and last 15 frames of the commercial must be silent (-60 dBFS)
For any commercials delivered cross-border from outside Japan, the Peach Connect Japan Customer Success team will help to create the broadcast slate and TVC layout for the final video.
Please provide slate information together with media contact info for delivery to our local support team at support@jp.groupimd.com as follows
Sample Slate template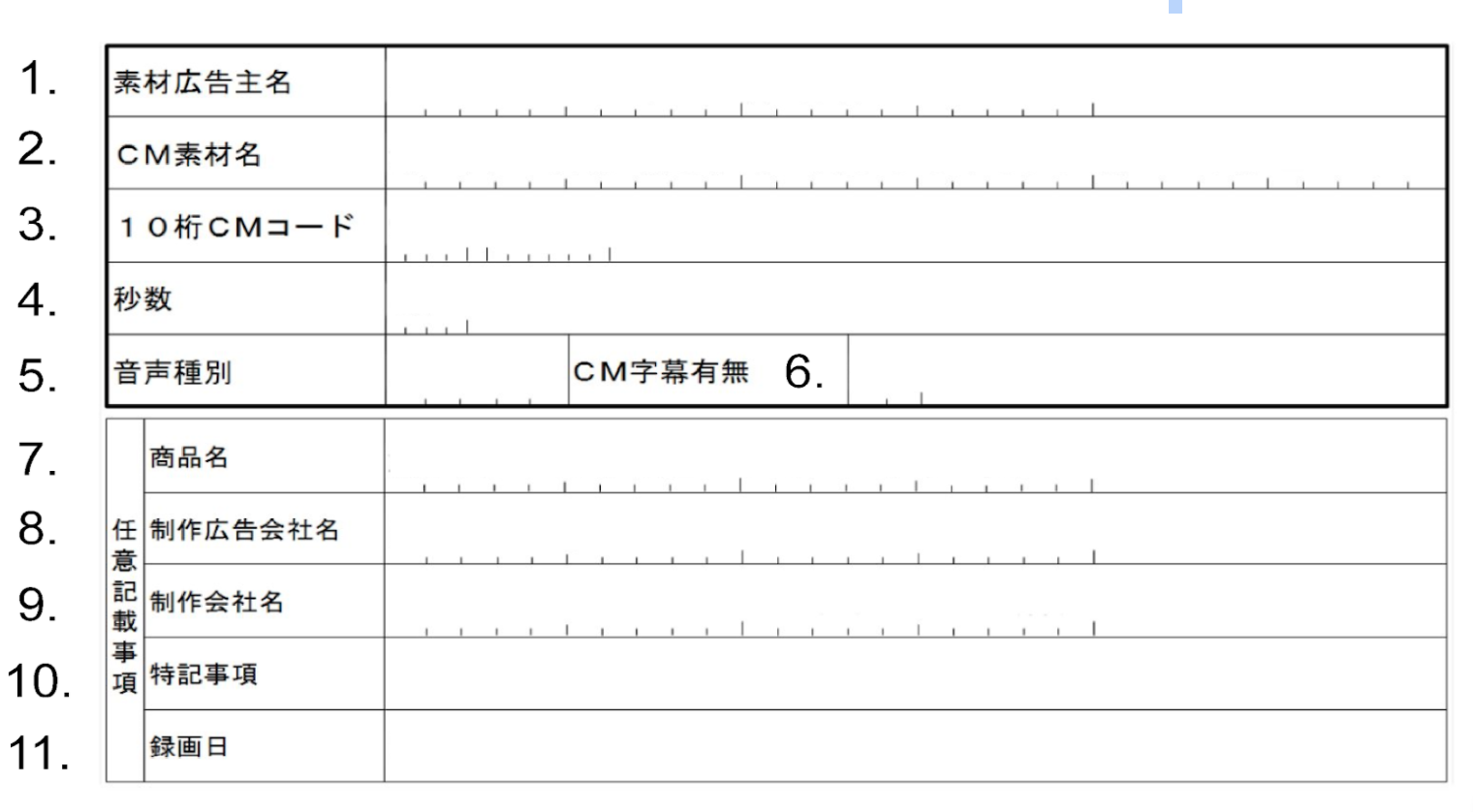 Mandatory Fields :
1 - 素材広告主名 (Advertiser Name)

Name of advertiser (2byte character- Up to 20 characters incl. blank spaces)

2 - CM素材名 (TVCM Title)

Title of TVCM (2byte character- Up to 30 characters incl. blank spaces)

3 - 10桁CMコード(10 Digit Code)

Must be unique per version (1byte character- shown with "4 digit advertiser code" and "6 digit material code" e.g. 13ZV=123456. **Cannot use alphabet "O" or "I")

4 - 秒数 (Duration)

Specify duration in seconds.

(1byte character-"15秒" (15 sec.)/ "30秒" (30 sec.)/ "60秒" (60 sec.)/ Other(e.g. "120秒")

5 - 音声種別 (Audio Type)

Specify audio type (2byte character- "ステレオ" (Stereo) / "モノラル"(Mono) / "5.1+S" (5.1 Surround)

6 - CM字幕有無 (Closed Captioning)

Specify if closed captioned or not.

(2byte character- "有り" (CC'd) / "無し" (Not CC'd)
Optional Fields
7 - 商品名 (Product Name)

Name of Product (2byte character- Up to 20 characters incl. blank spaces

8 - 制作広告会社名 (Creative Agency)

Name of Creative Agency (2byte character- Up to 20 characters incl. blank spaces)

9 - 制作会社 (Production House)

Name of Production House (2byte character- Up to 20 characters incl. blank spaces)

10 - 特記事項 (Special Note)

Special notes Note (Free to use)

11 - 録画日 (Rec. Date)

Recording Date (Free to use)
Naming Convention
Version ID Logic = "$4DigitCode=$6DigitCode
Example: 13ZV=ATEM05
$4DigitCode =
All advertisers in Japan must be registered with a central body in Japan called the
Code Control Center (CCC)
. When creating an order, you will need to use the official Japanese name on this database, so it also links the registered 4 digit code to the version. You can search for the advertiser's registered code via this website
https://www.ccc.or.jp
, but if you have questions please contact
support@jp.groupimd.com
.
$6DigitCode = This is a unique identifier for the version. It's issued and managed by the Advertiser. Restrictions on this field: Number (0~9), capital alphabet "A-H", "J-N" and "P-Z". Here "I" and "O" are prohibited to use to avoid confusion with "1" and "0". "-"(hyphen) and " "(space) are also prohibited to use.
The 10 Digit Code is the primary reference key for agencies and broadcasters making TVCs and booking airtime. Please provide this exactly.
Video Levels
Levels must be in accordance with ITU BT.709 for HD content, and EBU R103-2000 recommendations:
Luma = Level 16-235 (not RGB 0-255 level), equivalent to 0% - 100% or
0mV - 700mV.
Chroma = Level 16-240, equivalent to maximum 100% RGB.
All content should be upper and first field dominant throughout and must be free of encoding artefacts, dropout, glitches, blocking, interlace issues or excessive aliasing and considered broadcast quality throughout.
Audio Levels
Audio True Peak level must not exceed -1dBTP or -3 dBFS
Audio Loudness = -24 LKFS to -28LKFS. (recommended to upload audio loudness at -24 LKFS to -24.1 LKFS) Note: If you deliver something lower, your TVC will sound different to all others. If average loudness is below -28 LKFS, a written explanation must be included with the TVCM print to explicitly confirm that the low loudness is a creative intention.
Audio should be free of any distortion, glitches or excessive sibilance and must be in phase and in sync with the video throughout.
Safe Area
Please ensure all On-Screen Text is free from spelling and grammatical errors, and within the relevant Safe Area within 90% of the entire visual.