Please refer to the relevant Peach Connect Technical Specification for full details of the file requirements. This includes information regarding file layout, video and audio levels and frame rate.
This document is intended as a guide only for the export of content from Final Cut Pro 7. Suppliers should perform their own encoding tests and quality control to verify final settings achieve the required specification and level of quality.
If any assistance is required please contact the Customer Success team who are available via Chat within Peach Connect.
The encoding process and final quality of files remain the responsibility of the supplier. Peach cannot accept liability for incorrect or low-quality encoding.
Set Up
The purpose of this guide is to suggest a freeware workflow for FCP 7 Mac based users to export XDCAM HD 422 MXF-wrapped digital files suitable for uploading to Peach Connect.
This will allow FCP 7 to make broadcast-format MXF files. The component detailed in this document is free, and in the public domain.
Required Components
Sony's XDCAM Transfer version 2.13 is required to complete the workflow described below.
https://pro.sony/en_GB/product-resources/software/1237485726895
Installation and Use
Note that you must agree to the Sony license agreement before download, and that the file name is: PDZK-P1_XDCAM_Transfer_v2_13_0.zip
The file should be unzipped automatically by MacOS, and can be installed in the conventional way.
After restarting FCP 7, there will be a new Export option, called Sony XDCAM, as shown here: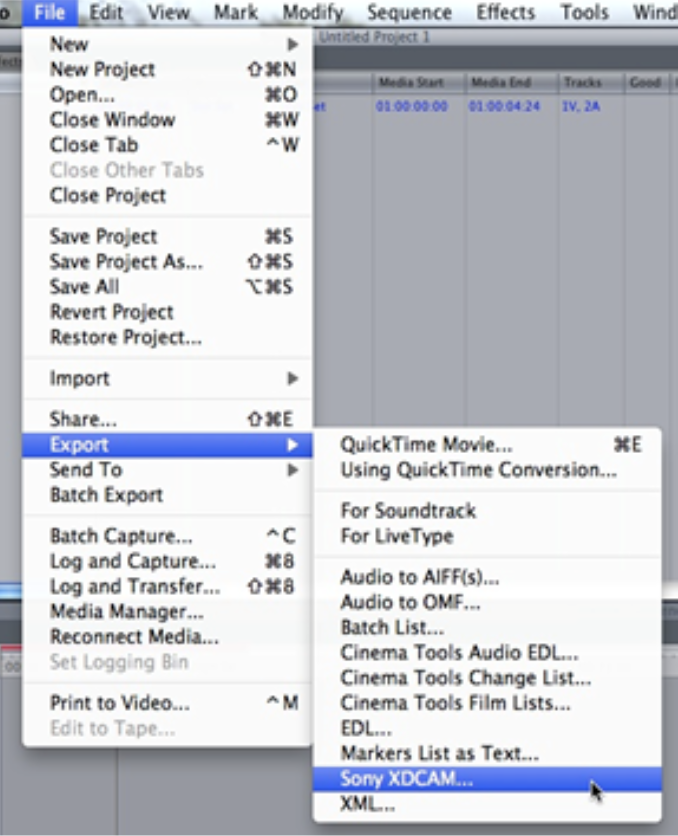 Sequence Settings
Select

Sequence, Settings, General

Frame Size

1920 x 1080 HDTV 1080i (16:9)

Pixel Aspect Ratio

Square

Anamorphic 16:9

Do Not Select

Field Dominance

Upper (Odd)

Editing Timebase

25

or

29.97

as required

Compressor




XDCAM HD422 1080i50 (50Mb/s)

or

XDCAM HD422 1080i60 (50Mb/s)

as required

Rate

48kHz

Depth

16-bit or 24-bit

Config:

Discrete Channels
Audio Outputs
Outputs

2

Downmix (dB)

-3 (Set for both Channels 1 & 2)

Grouping

Dual Mono

Click

OK

to Save Settings
Exporting File
Select

The Final Sequence

Select

File, Share, Master File

Select

Settings

Format

MXF

Video codec

XDCAM HD422 (50Mpbs)

Using Settings

XDCAM HD422 1080i50 CBR

(PAL)

or

XDCAM HD422 1080i50 (NTSC)

as required

Click

Export

to Save File



XDCAM Transfer Application
The XDCAM Transfer installation also installs a stand-alone application which can be used to preview any XDCAM MXF files. This can be used to check back the exported MXF file before upload to Peach Connect.
Please note
Some sequences may require a Video Limiter or Broadcast Safe filter to be applied before export to ensure Chrominance and Luminance levels are within specified limits.
Please ensure Audio levels are set correctly before beginning the export process.