Please refer to the relevant Peach Connect Technical Specification for full details of the file requirements. This includes information regarding file layout, video and audio levels and frame rate.
This document is intended as a guide only for the export of content from Avid Media Composer 2019. Suppliers should perform their own encoding tests and quality control to verify final settings achieve the required specification and level of quality.
If any assistance is required please contact the Customer Success team who are available via Chat within Peach Connect.
The encoding process and final quality of files remain the responsibility of the supplier. Peach cannot accept liability for incorrect or low-quality encoding.
Project Set Up
Please ensure the Avid Project is set to the correct Project Settings before beginning the export process. HD export options are only available within an HD project. Project Settings will determine the definition, frame rate and field order of the exported file.
Project Window, Format Tab
Select

1080i/50

or

1080i/59.94

as required

Raster Dimension

1920x1080

Colour Space

YCbCr 709
Sequence Export
Select

The Final Sequence

Select

File, Output, Export to File

Name File

Should match Version ID

Choose

Export Location

Select

Untitled

from the Export Settings drop down menu

Click

Options
Export Settings
Export as

AS-11

Shim

AS-11_Shim_1080i50.xml

Descriptive Metadata

Enter Series Title, Programme Title and Episode Title/No

Audio Track Layout

Undefined

Click

Save

to exit Export Settings Window and return to Export As.. Window

Click

Save

to Export File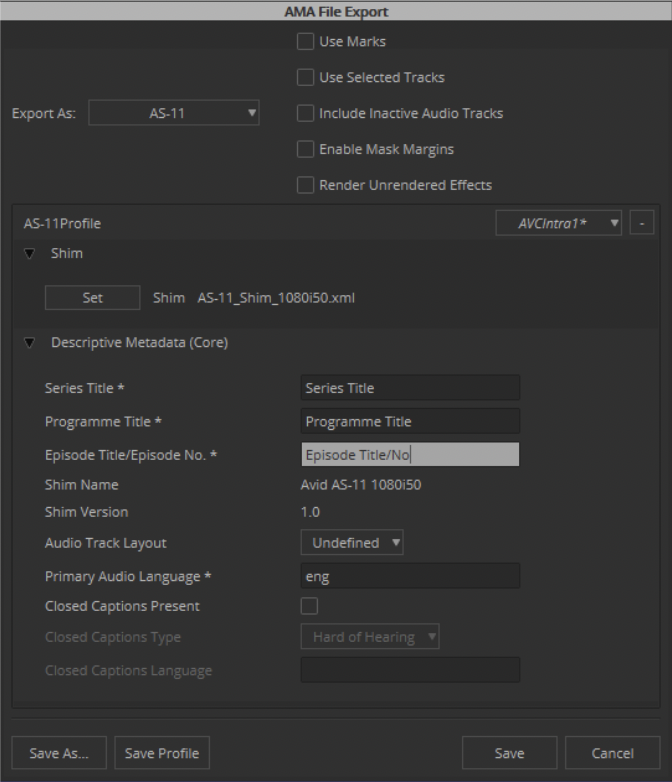 Please note
Some sequences may require a Video Limiter or Broadcast Safe filter to be applied before export to ensure Chrominance and Luminance levels are within specified limits.
Please ensure Audio levels are set correctly before beginning the export process.