All files uploaded to Peach Connect are immediately run through an Auto QC process. To ensure files are not rejected please adhere to the guidelines below.
HD (1080/50i)

Container

MXF (OP1a)
Video

Codec

XDCAM HD422

Format Profile

422P@HighLevel

Frame size

1920 x 1080

Aspect Ratio

16:9

Frame rate

25 fps

Interlacing

Upper Field First

Bitrate

50 Mbps

Chroma Subsampling

4:2:2

GOP Length

12 (M=3, N=12)
Audio

Format

PCM (Little Endian)

Channels

8 (1 channel per stream)

Sample Rate

48 kHz

Bit Depth

16 bits / 24 bits
File Layout
Files must be frame accurate and include 10" of pre-roll (7" Clock/Slate + 3" black). No post-roll such as black, hold or freeze is required.
The first and last 6 frames of the commercial must be mute.

Clock/Slate must include the following information:
Advertiser
Product
Title
Duration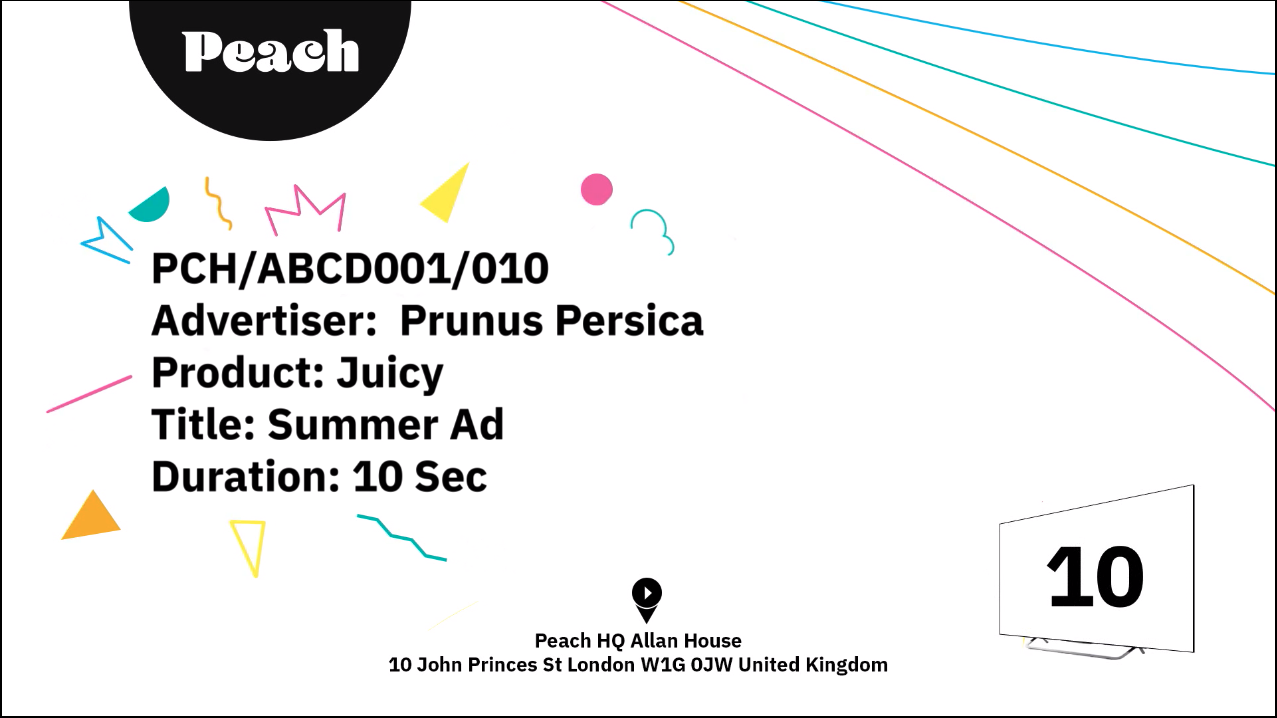 Video Levels
Levels must be in accordance with ITU BT.709 for HD content, and EBU R103-2000 recommendations:
Luma = Level 16-235 (not RGB 0-255 level), equivalent to 0% - 100% or
0mV - 700mV. Chroma = Level 16-240, equivalent to maximum 100% RGB.
All content should be upper/first field dominant throughout and must be free of encoding artefacts, dropout, glitches, blocking, interlace issues or excessive aliasing and considered broadcast quality throughout.
Audio Levels
The Programme Loudness Level must be normalised to -23 LUFS (±0.5 LU) and -1 dBTP max, according to EBU R128 recommendation.
Audio should be free of any distortion, glitches or excessive sibilance and must be in phase and in sync with the video throughout.
Safe Area
Please ensure all On Screen Text is free from spelling and grammatical errors, and within the relevant Safe Area in accordance with EBU R95-2017 recommendations
HD Safe Area 1920x1080 Interlaced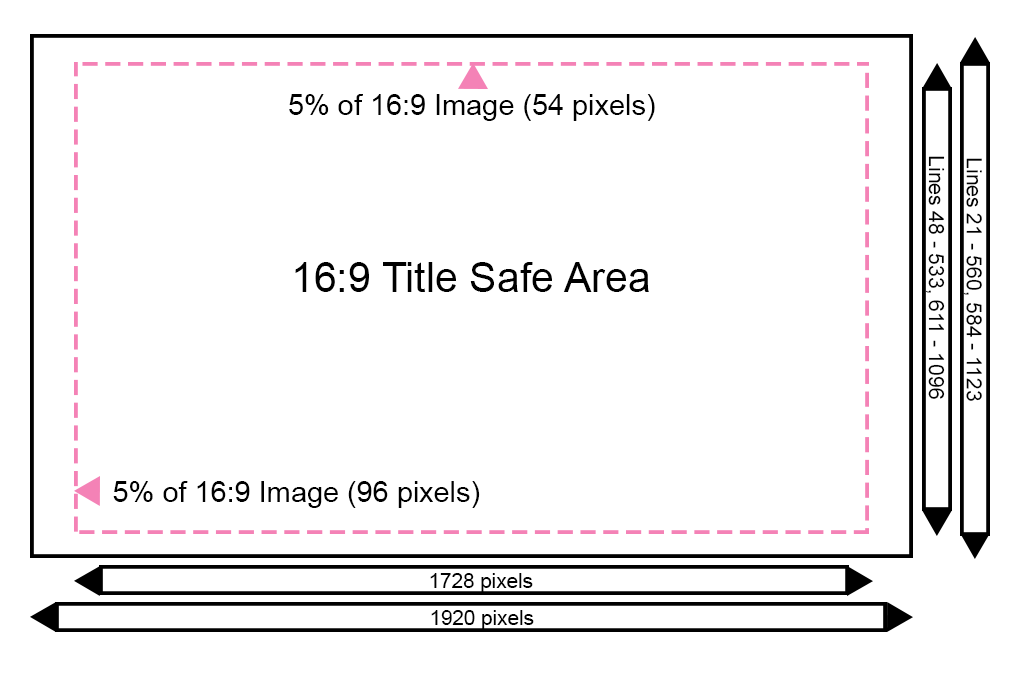 Audio Layout
The audio channel layout is as follows:
Channel 1 - Stereo L
Channel 2 - Stereo R
Channel 3 - Audio Description/Mute
Channel 4 - Control Track/Mute
Channel 5 - Mute
Channel 6 - Mute
Channel 7 - Mute
Channel 8 - Mute
Note: Both Audio Description and Control Track are mandatory for Audio Description files.
If Audio Description is not required Channels 3 & 4 must be Mute
Subtitles
Subtitle captions are required to be OP-47 compliant within the MXF file according to SMPTE ST 436-1 for VANC data.
The subtitles are required to be on Line 12 / Field 2 (577) / Teletext PAGE 888 and should not be present in the first or last 5 frames of the commercial.
Packet31 test data and dummy headers should not be present.